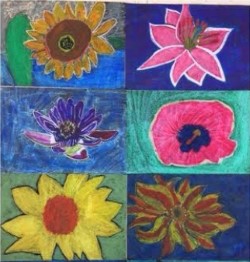 Artist Inspired Lessons (Ages: 8-12)
Instructor:
Victoria Fry
May 21 – June 11, 2020 · Meets: Th · 04:30 PM – 06:00 PM
Age: Junior Online Art Studio (Ages: 2-12)
This class meets for four-weeks, May 21, 28 June 4 & 11 via Zoom. Spend your time painting in acrylic and learning the properties of this fluid medium. Each session we will explore a different artist each session. Artists of historical importance as well as contemporary artists will be studies and will include: Van Gogh's landscapes, Alexis Diaz's hybrid animals, Faith Ringgold's Story quilts, Georgia O'Keeffe's flowers, Henry Rousseau's Jungles.

We will email you the private meeting link and password 24 hours in advance of the workshop. Materials: Assorted acrylic paint (white, black, yellow, red, blue, brown, and we can mix the rest), one set of small, medium and large paint brushes, colored pencils, markers, pencils, 11 x 14 watercolor paper and plain white construction paper. If you need materials, Jerry's Artarama in Norwalk, CT is open Monday thru Saturday and offering curbside pickup 10am to 5pm. Just email or call with questions or place your order Email norwalk@jerrysartarama.com and phone 203-846-2279.
See all...