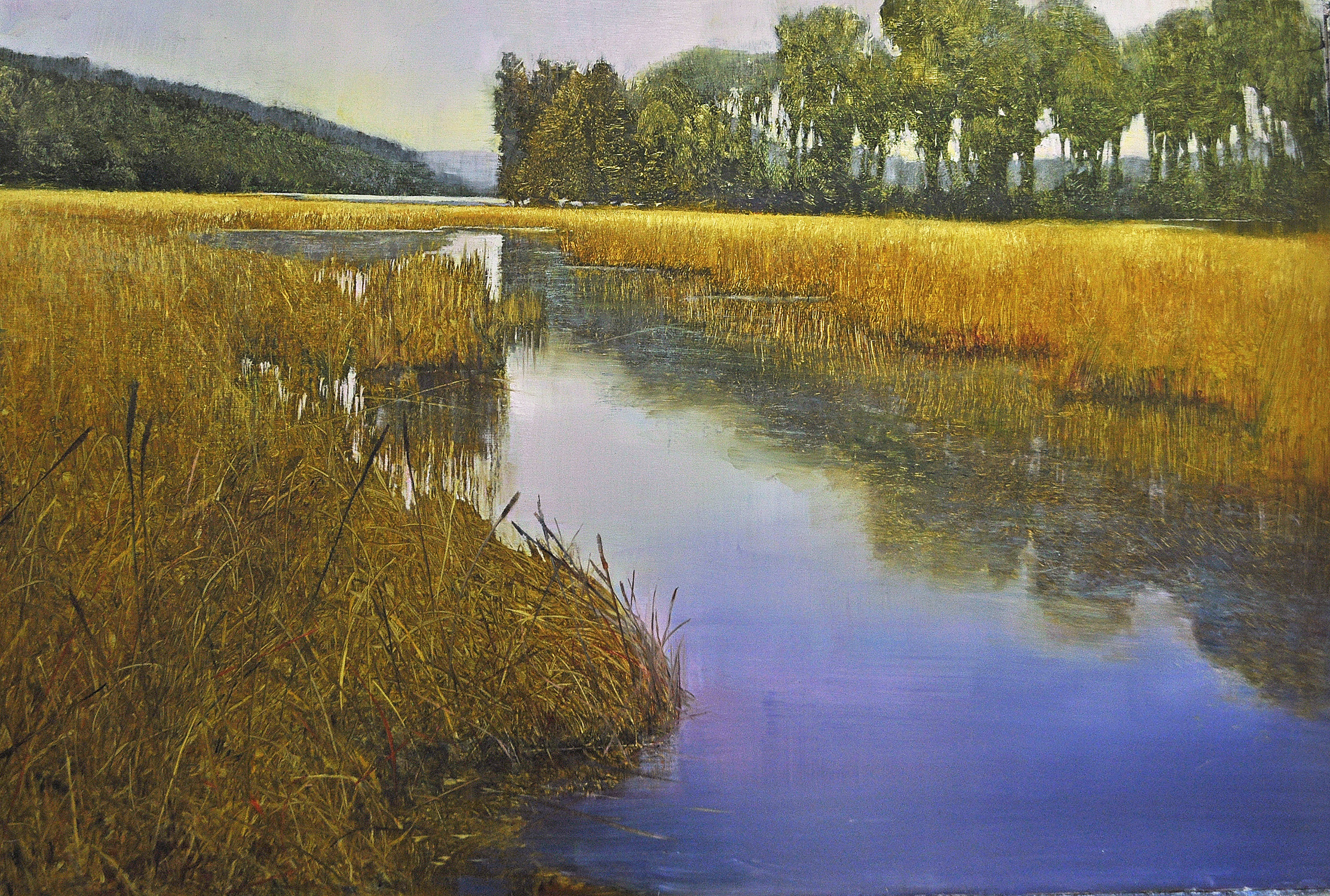 The Completely New Landscape Session 1
Instructor:
David Dunlop
May 12 – June 2, 2020 · Meets: Tu · 10:30 AM – 12:30 PM
Age: Adult Online Art Studio (Ages 18 +)
The class meets for four-weeks via zoom. We embrace innovation and variety here. Learn how styles and methods from historic landscapes to Impressionist experiments to contemporary abstracts and collage. For example, learn to merge ancient Chinese landscape systems with contemporary realism. Learn to blend experiments in photography with modern landscape painting as we search for new sources. How can the experience of water, flora, and atmosphere be evoked by recombining materials and innovating designs. We will demonstrate new currents in landscape painting testing new materials and subjects as we expand landscape painting into unexplored dimensions. We will email you the private meeting link and password 24 hours in advance of the workshop. If students wish David to critique one piece of artwork, please email schooladmin@silvermineart.org by 1pm on Monday prior to the class meeting. Work submitted the morning of the workshop, will not be critiqued until the following Tuesday.

Supply List This workshop will take place via Zoom. We will email you the private meeting link and password 24 hours in advance of the workshop. For oil painters: Charvin oil paints or Old Holland oil paints: Titanium white(Charvin), Ultramarine Blue(Charvin), French Primary yellow(Charvin), Transparent RedOxide(Charvin), Scheveningen Red middle,.. Intense Violet by Charvin) and, Intense Violet(Charvin) Diamond Pink(Charvin) or Intense Pink(Charvin)(pink), carmine lake( Charvin), napthol red (Charvin),Imperial green(Charvin), a primary yellow(Charvin) and, cyan. Cleaning your brushes oil and soap and water or use a biodegradable non-toxic degreaser like Soysolv. There is no longer any need to use any toxic solvents when oil painting. Gamsol or Eco House. You will need brushes: some rounds and flats in nylon ( Pro Arte Prolenge Connoisseur, or Isabey or Rafael)....any good synthetic nylon-type sables...from at least , some 2" flats and 1 flats to 1/2" flats and rounds, perhaps a #12, #2. And 2 and 1" and, "inexpensive bristle brushes, and a bristle fan brush .I personally rely on 2" soft synthetic flats (Rafael Kaerelbrushes)and 1and 2 ox bristle brushes as well as a Rafael Kaerell (#12 or 14). blue handle primer brushes with hog bristles that are inexpensive and excellent for stippling, or fan effects. A container for your Soysolv( or Gamsol or Eco house turp) and one for medium( walnut, poppy or refined linseed oil) and surfaces to paint on. smooth multi primed Belgian Linen (Artfix L84 C), Old Holland triple primed portrait canvas (linen) pads, galvanized steel or aluminum which I cut to size, acrylic varnished watercolor paper, acrylic varnished clay board and finally ....the smoother the surface the better. For Watercolorists: Lukas Aquarelle 1862 tubes or Old Holland tube watercolors (having the finest color saturation etc). Titanium highlighting white, ultramarine blue, Scheveningen Blue Light(O.H), Scheveningen Red (O.H.)Middle, Carmine( Lukas 1862), Scheveningen yellow(O.H.), Gamboge yellow (O.H. and Lukas 1862), primary cyan (Lukas 1862) and transparent red oxide. Consider the same color palette as the oil painters. Be certain to include titanium highlighting white. For brushes same as the oil painters with a couple of additions: a couple of Kolinsky Sables and Japanese Sumi brushes could be fun (round and flat in ponyhair). Water container, 140lb Hot press watercolor paper, paper towels, and some quick release painter's tape, razor blades, some white conte crayon, and either a white plastic or paper palette (shiny surface). For Acrylic Painters: Lascaux's acrylics, Golden acrylics, M. Graham acrylics or Matisse acrylics. Transparent Red Oxide (or Burnt Sienna), Ultramarine blue, Quinacridone violet, vermillion or cadmium red light, turquoise or cyan, cobalt blue, Titanium white, Gamboge or Hansa Yellow and cadmium yellow (Hansa and Gamboge are transparent and Cadmium is an opaque yellow). Gloss medium varnish (Golden makes an excellent product here). Shiny paper palette, a large container for water, quick release tape, 140 lb. hot press water color paper or a universal primed(acrylic primed) portrait linen or canvas. Include at least a 2" flat bristle, a 1" flat bristle, and a " flat bristle (see the blue handle primer bristle brushes that I referred to in the oil paint section above) brush along with a selection of nylon flats and rounds. A bristle fan can prove to be versatile. . If you need materials, Jerry's Artarama in Norwalk, CT is open Monday thru Saturday and offering curbside pickup 10am to 5pm. Just email or call with questions or place your order Email norwalk@jerrysartarama.com and phone 203-846-2279.
See all...