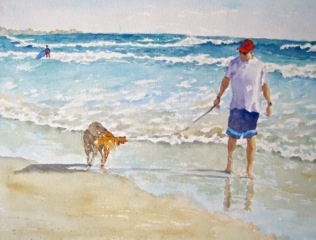 Watercolor Landscapes
Instructor:
Wendy MacCordy
June 11 – June 25, 2020 · Meets: Th · 10:00 AM – 12:00 PM
Age: Adult Online Art Studio (Ages 18 +)
This course meets for three-weeks via Zoom. Experience the fun of watercolor painting. This workshop is designed for students who are beginners in watercolor or continuing from the previous beginner watercolor class. We will explore watercolor materials, techniques, and color mixing in a relaxed atmosphere. There will be demonstrations and lots of individual attention. You may use your own photographs for painting inspiration.

We will email you the private meeting link and password 24 hours in advance of the workshop. Supplies: Watercolor paper (140lb. not student grade if possible) Watercolor brushes 2 (size 8 and 12 are preferred) Pencil and kneaded eraser Container for water Plastic palette (I use John Pike) Paper towels Watercolor paint: If you can get professional grade. Suggested colors below but not mandatory. At least have the primary colors. *Ultramarine blue *Cobalt blue *Alizarin Crimson *Aureolin Yellow *Yellow Ochre *Burnt Sienna *Raw Umber *Sap Green
See all...