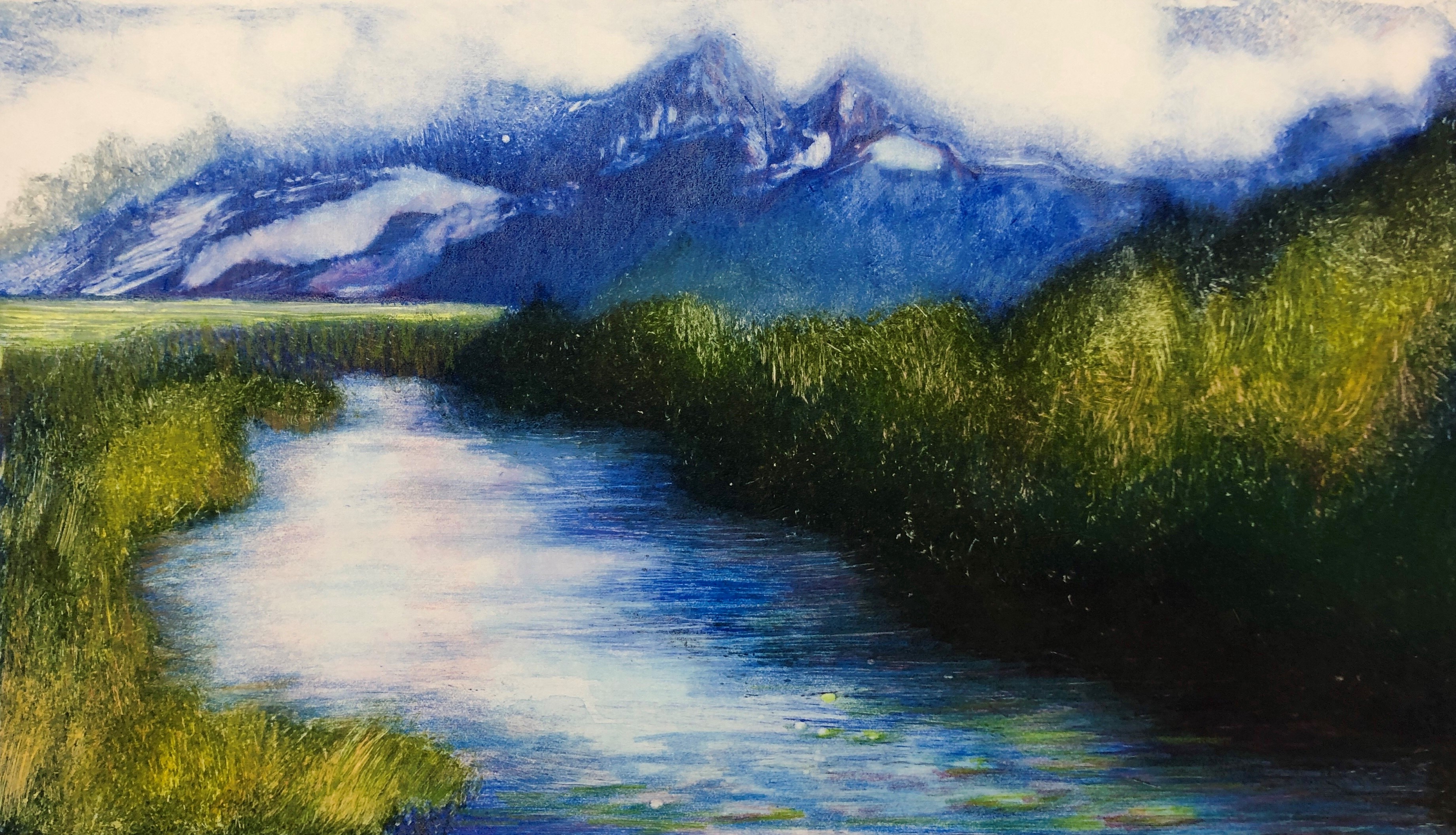 Variations of Monotypes
Instructor:
Nancy McTague-Stock
July 7 – August 11, 2020 · Meets: Tu · 01:30 PM – 04:30 PM
Age: Adult Courses (Ages 18+)
Are you ready to learn new ways to work in monotype? This is the class for you! Once you have had the chance to learn the basics of the monotype, this is a course where you will be exposed to the many possibilities the monotype offers. You will have choices to enjoy learning the use of stencils, collage, multiple drops and the addition of other types of media such as pastel and watercolor. If you wish to bring prints you have made in the past but were not totally happy with them, please bring them if you want, as we can transform them into something even better!

Supply LIstFirst page items are essential. Second page supplies dictate what you want to do, so are optional depending upon what you wish to use! *If you are taking this course with a friend, you can likely share some items, but do plan on purchasing your own paper and plexi plate(s)! *1 plexiglass plate, 1/8 thick or less. - Size range is up to you, but suggested sizes are 6"x6", 8 x 10 , 11 x 14 , 12 x 12", 16 x 20 for abstract and still life work and 8 x 10 or 6 x 14 for landscape work. It's best not to try to work larger at this point. I like 1/8" thickness, as they will last a long time! TIP: (If you are taking the class with a friend, each bring different size plates so you can share!!) (You may purchase more than one size if different sized prints are desired, but it is not at all necessary! ) *1 roll of Viva or Bounty paper towels *1 disposable palette pad *1 scissor 1 glue stick or lineco archival glue 1 box q tips *1 or two printmaking rollers, (hard rubber brayers with metal, not plastic holders that attach to roller) in 3, 4 or 5 widths *Variety of bristle brushes, sizes should vary - old brushes are great for this process! *Variety of colors of paints…….….. You may choose to bring what you have or if you want to work monochromatically, pls. bring minimum of one color other than white. You will need oil paint or etching inks for the monotype process. Oil paints can be either oil based or you can try Winsor Newton Artisan watersoluble oil paints *Pls. bring Citrasol and a plastic container for clean up ,rather than turpentine, as many people are allergic to turpentine and we want everyone in the class to be comfortable! *2-4 sheets of 22 x 30 watercolor paper. Must be at least 140 lb. paper, Fabriano, Lanaquerelle and Arches are all good brands. Hot press for straight monotypes, Cold press if you want to add other mixed media like pastel on top of prints. DO NOT BUY PAD PAPER! PLS. get paper at paper window at Jerry's… Monotype/Collage Supply List, page two All products can be purchased at Jerry's Artarama in Norwalk, the grocery store and Select Plastics in Norwalk OPTIONAL ITEMS TO BRING as you wish….add these if you want! Extra Collage & Mixed Media Ingredients: *If you have previously made prints in another class, you may wish to bring bring existing monotypes that you wish to embellish 1 bottle of Golden or Liquitex medium varnish (matte) If you have photos that you would like to work from for representational work, please feel free to bring as many as you like. For mixed media abstract work, you may want to bring things like plastic netting bags from onions and potatoes, plastic strawberry boxes and corrugated cardboard, bottle caps, anything that can make a mark! Lace, ribbons, old postcards, old letters, postage stamps, fabric samples, any type of memorabilia is great. If you like you can bring stamps and stamp pads with letters or symbols, PRESS TYPE, rice papers, and more! Acid free or archival glue - Lineco makes a good one, available at Jerrys Artarama in Norwalk. Bring crayons, watercolor, pastels or colored pencils, colored inks, pastels markers, etc. …whatever you have lying around to add embellishment is fine! ___________________________________________ FYI…. It is a good idea to use surgical gloves so they keep your hands paint free, available at CVS. An apron if you wish to wear one, otherwise pls. wear old clothes you don't mind getting dirty! Also, it can be chilly, so bring an old flannel shirt or sweatshirt just in case.
See all...