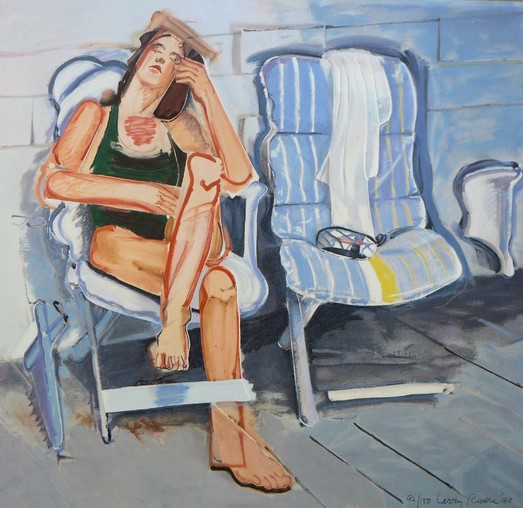 The Art of Painting
Instructor:
Matthew Shelley
July 6 – August 10, 2020 · Meets: Mo · 07:00 PM – 09:00 PM
Age: Adult Courses (Ages 18+)
Discover the essentials of painting, from color mixing to paint handling. Students will learn how to crop and frame their subject to make a strong composition, use value to structure their imagery and paint with both limited and full palettes. Study the works of historical and contemporary artists and learn the direct method for creating paintings.

Supply List: 
 Notes on quantity: Students do not need all materials at the beginning of the class. Many students find it helpful to buy the basics, and make additional purchases throughout the semester based on personal preferences and class lessons. Bring the basic materials to class (what you need to make a standard painting) but feel seek advice on materials and make purchases as the semester unfolds. We will start with basic materials, paint and paper at the beginning of the semester. If students can make it to art supply stores regularly that can be better than purchasing all at once in the beginning of the semester.
 
 Notes on quality: Students should feel free to buy whichever quality of supplies that they are most comfortable with. For acrylics I typically use Golden Acrylics, however, most studio grade paint will work fine as well. Brands like Windsor & Newton, blick, or liquitex are perfectly acceptable too. For each of the materials below buy the quality level that you're comfortable with. 
 Paint (acrylic paint is standard / oil paint is optional):
 titanium white (large tube 5 oz) cadmium red phthalo green phthalo blue (blue or red shade) dioxazine purple hansa yellow medium yellow ochre burnt umber raw umber van dike brown 
 Note: The colors above are suggestions. If students have pre-existing paints, or other colors that they would prefer to use substitutions are acceptable.
 
 Other Materials: 3 sealed containers (any small to medium size jar with lid will do) spray bottle palette knife disposable palette papers resealable stay wet pallet with lid (large size) shop towels or old shirts 1 or 2 rolls of 1.5" Blue painters tape selection of pencils 2h through 6b 
 Brushes: Brushes can be bought to suit student preferences. I recommend a variety sizes and styles. Be sure to purchase both flat and round brushes. Select several brushes for detail work, several for medium scale work, and a few for large scale work. Try and purchase duplicates or even three of each brush. Finally be sure and have at least 1 or two extra large flat brushes (house painting brushes work well).
 Surfaces: 4 watercolor paper individual sheet 22 x 30" (see paper counter at art supply store) 1 watercolor tablet 18 x 22" size with at least 10 sheets bristol pad of paper 11 x 14" size with at least 10 sheets selection on small and medium canvases (18 x 24" - 24 x 36" in size) make this purchase according to personal preferences. We will use roughly 6 canvases over the course of the semester.
See all...