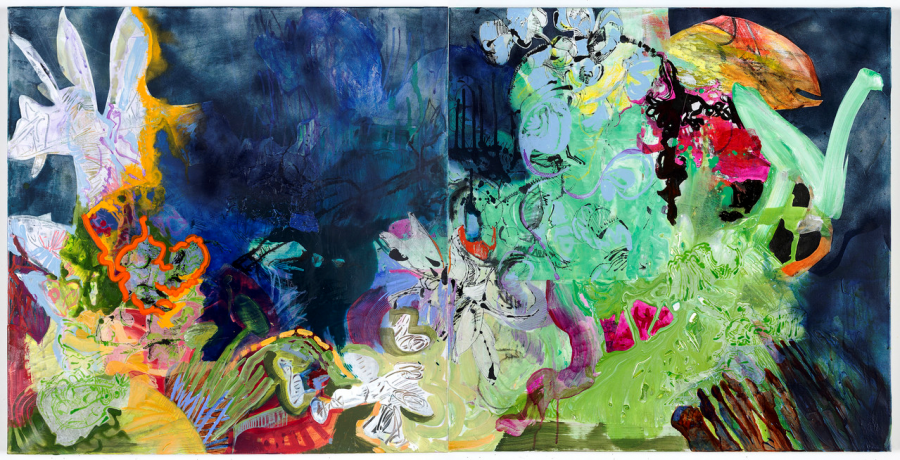 The Dragon Emerges (acrylic, black ink, spray paint on linen) by Heidi Follin, winner of the Board Chairs Award and a future solo exhibition at Silvermine.
NEW CANAAN, CT, Sept. 8, 2023—The 73rd A•ONE at Silvermine Galleries celebrates a wide spectrum of forms, ideas, and innovation in composition and materials. A•ONE, which began in 1949, is Silvermine's signature exhibition, known equally for compelling works of art and for the luminaries who have served as jurors. As Silvermine marks its 101st year, A•ONE continues to spotlight new trends in contemporary art. Silvermine Galleries will host an opening reception—free and open to the public—on Sat., Sept. 16, from 6–8 p.m. The exhibition runs from Sept. 14 through Oct. 26.
Madeline Cornell, Gallery Director at Winston Wächter Fine Art in New York City, served as juror for this year's A•ONE. She sought "pieces that showed the indelible mark of the artist, those that conveyed their unique perspective." The Board Chairs Award, which includes a future solo exhibition at Silvermine Galleries, went to Heide Follin of Norwalk, CT, for her painting, The Dragon Emerges. Becca Barolli of Bethlehem, CT, received the Carole Eisner Sculpture Award for works in annealed steel wire. Lukas Milanak of Brooklyn, NY, was honored with The Mollie & Albert Jacobson Sculpture Award. The Patricia Warfield Jinishian Figurative Award went to painter Jodi Steifel of Newtown, CT, whose work navigates the physical world what Cornell calls the "intricate landscape of the emotions."
In the work of Becca Barolli, Constance Keller, Blinn Jacobs, and Michael Rohde, Cornell found a strong element of pattern and structure, whether mathematical or emerging from meticulous craftsmanship. Preservation, in the face of change, was another prominent theme. Lukas Milanak's work, Cornell writes, "examines the evolution and impact of technology in objects that create fleeting sensations experienced in the natural world, transforming them into future relics imbued with a romanticized nostalgia for an era that is lost." She also praised the way Heide Follin's "energetic brushstrokes and bold use of color blur the line between abstract and organic forms." Personal journeys, the natural world, and gorgeous attention to detail are prominent in this year's exhibition.
Madeline Cornell has years of expertise in 20th-century master photography through her work with emerging and established contemporary artists. Before joining Winston Wächter Fine Art, she was a specialist in the photography department of Artnet Auctions. She served as Assistant Director at the Robert Mann Gallery with previous experience at James Cohan and the New Museum of Contemporary Art. Cornell holds a master's degree from New York University in visual arts administration and a B.A. in art history from the University of Oregon with minors in business administration and arts management.
Throughout its history, A•ONE has featured the work of many prominent artists, including Louise Nevelson, Elaine de Kooning, and Milton Avery, and jurors have included prominent critics, curators, and directors from influential art institutions. A•ONE was established in 1949 as the New England Exhibition. Known recently as Art of the Northeast, it now draws artists from all over the U.S. and worldwide.