For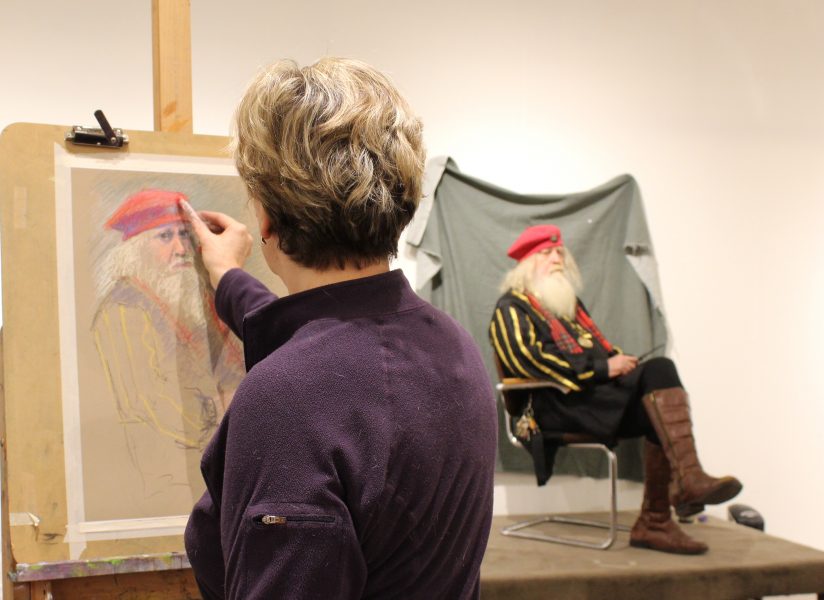 years we have had the pleasure of Rich Glica joining us at Silvermine as one of our longtime portrait models. He is a recognizable figure not only for his zebra striped van but also for his jovial character. We are pleased to share this abridged article from the CT Insider all about Rich. To read the full CT Insider article click here.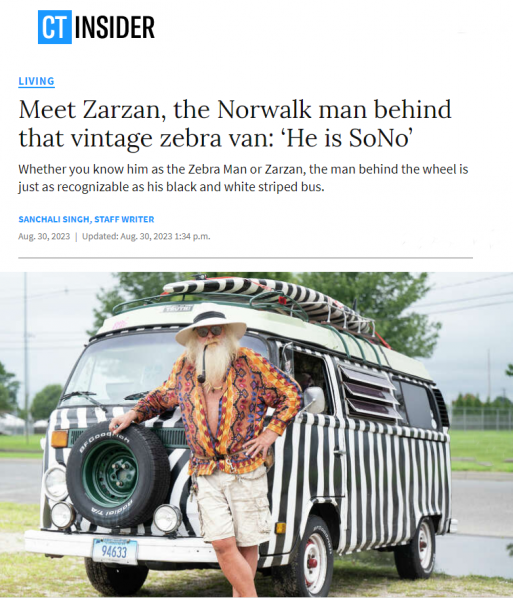 Rich Glica, aka Zarzan, of South Norwalk with his 1973 Volkswagen van at Calf Pasture Beach in Norwalk, Connecticut on August 15, 2023.
Bryan Haeffele / Hearst Connecticut Media
NORWALK — You've probably seen him around town — either at Donovan's smoking his pipe, driving around Norwalk in his zebra van, at Calf Pasture Beach or painting on the street. Whether you know him as the "Zebra Man" or "Zarzan," the man behind the wheel is just as recognizable as his black and white striped Volkswagen bus.
Rich Glica, a 71-year-old Norwalk native with Darien roots, has become somewhat of a local celebrity. With his long beard, eccentric clothes, old-fashioned pipe and iconic van, it's hard to miss him. He said he gets stopped "about five times a day" by people who recognize him.
He's also an artist, musician, model and political activist. He said he's been a background actor in movies and TV shows.
Every year, Glica performs in the SoNo Arts Festival. Sue Brown Gordon, a festival director of local and national art festivals, said he is the first person the organizers of the SoNo festival call when they start planning. He's not actually involved in the planning process — the organizers just want to make sure he's participating. "All he has to do is just show up and do his Rich thing," she said. His main role is leading the puppet parade, in which life-sized paper mache and fabric puppets that are created just for this event walk around South Norwalk. Glica normally plays a marching drum during the parade. Sometimes he walks, or other times he drives through in his van."I can't remember a year when Rich wasn't in that parade, if not leading it," she said. Glica is one of the most recognizable people who participates in the parade. He regularly wears a matching outfit for the event — this year, he wore a pink-on-pink ensemble.
He's not only a dependable figure in the parade. Brown Gordon has also seen him modeling for art classes at the Silvermine Arts Center and the Norwalk Art Space. "I've never known someone who's so supportive of the arts," she said.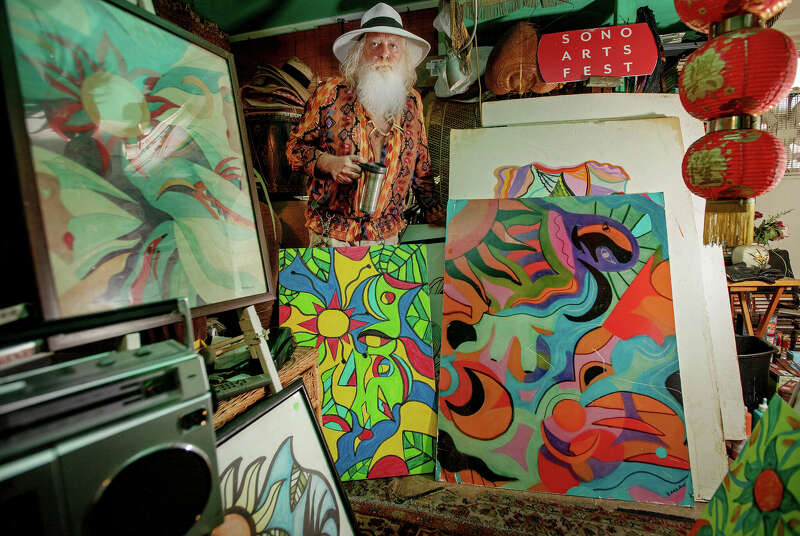 Rich Glica, aka Zarzan, at his home and art studio in South Norwalk, Connecticut on August 15, 2023.
Bryan Haeffele/Hearst Connecticut
Glica first started making his own art about 35 years ago, which is when his nickname was born. He created "Zarzan" from "Tarzan," "because it's easier to remember than Rich Glica," he said. He has a deep affinity for the jungle, dressing in jungle prints and covering his van's seats in tiger stripes. His apartment is decorated with fake palm trees. He bought the surfboard that's attached to his van's roof last September just to match the aesthetic.