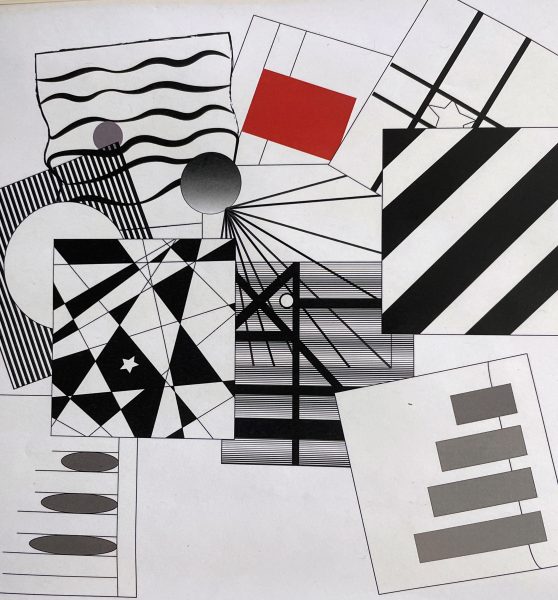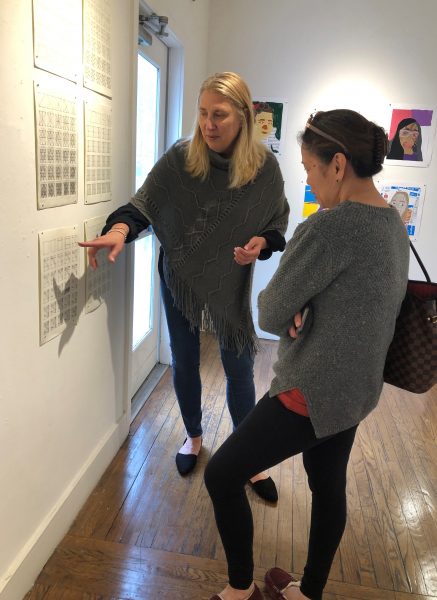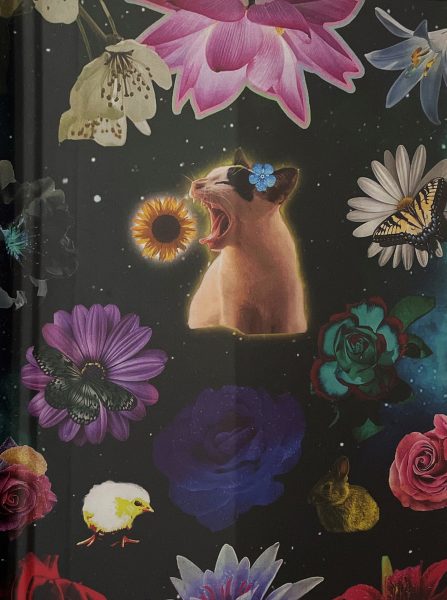 Students and families from P-TECH Norwalk gathered at the opening reception for Teen Fusion 2023 at the Silvermine Student Gallery. Mary Jo McGonagle, Professor of Art and Design, details the intricacies of student work in graphic design at the exhibition.
NEW CANAAN, CT—Students from P-TECH Norwalk celebrated the annual opening of Teen Fusion 2023 on Saturday, April 22, in the Student Gallery at the Silvermine Arts Center. The student works on view are in graphic design or collage, and many are composed with professional design tools. The work includes 2D design; graphic design using Adobe Illustrator; and digital imaging using Adobe Photoshop and typography. While completing their high school academic program, P-TECH students take Norwalk Community College (NCC) graphic design courses as part of the college program. The student reception included teachers, family, friends, and Silvermine staff members. The public is invited to view the exhibition, which runs through May 17.
Mary Jo McGonagle, Professor of Art and Design at Norwalk Community College, curated the show. "P-TECH is fortunate to once again have the opportunity to showcase their talent at the Silvermine Arts Center. Our students are given an amazing opportunity to exhibit their work to the public at this highly prestigious institution." McGonagle was thrilled to see her students' work in the gallery setting. "I love that the students bring their families to the show and share their talents. They have worked really hard during the semester to exhibit at Silvermine."
"Showing student art and design in the School gallery continues to be part of Silvermine's mission to deepen its engagement with the community and give students a chance to have their work presented to a wider audience," said Barbara Linarducci, Silvermine CEO. "Silvermine continues to expand its reach in art education—both through its outreach programs and its collaborations with scholarly programs that are revitalizing the teaching of art and design."
P-TECH Norwalk (Pathways in Technology Early College High School) is an independent high school recognized by the state of CT. P-TECH partners with Norwalk Community College and IBM to afford students the opportunity to graduate from high school and earn a degree from Norwalk Community College (Associate in Applied Science (AAS) in as little as four years, but students are allowed up to six years to complete the college degree requirements. P-TECH Norwalk offers three possible associate degrees in computer science: software engineering, web development, and mobile programming. Upon graduation, P-TECH scholars are prepared to join the work force or may transfer to a four-year institution to complete their undergraduate degrees.