Historic Silvermine Arts Center and New York City's Sheen Center for Thought and Culture present
The Inner Light – A landscape exhibition exploring the intersection between artistic expression and spiritual contemplation.
 
Clockwise : David Dunlop, Misty Pond; John Harris, Aspetuck; Torrance York, N41°08.859' W073° 30.505' 42818 375': Jan Dilenschneider, Winding Stream: Lynn Mara, Rowboat.
NEW CANAAN, CT, Sept. 5, 2023—The Inner Light brings five artists from the Silvermine Guild to the renowned Sheen Center for Thought & Culture in an exhibition that weaves together the realms of artistic expression and spiritual exploration within the context of landscape art. At the heart of The Inner Light lies the notion that landscapes are not merely external scenes to be observed but are also mirrors reflecting the landscapes within us—our emotions, thoughts, and spiritual dimensions. The exhibition opens in New York City on Tuesday, Sept. 4, in the Janet Hennessey Dilenschneider Gallery at the Sheen Center and will run through Sept. 29.
The Silvermine Arts Center, which attracts artists from around the world, is celebrating its centennial, marking a century of its history as a prominent artistic institution. Over the course of these hundred years, Silvermine has consistently upheld its reputation as a hub of creative excellence.
"Exhibiting at the Sheen Center provides a unique platform for exploring the intricate connections between thought, culture, and faith. Silvermine is grateful for the opportunity to showcase our artists' work in such a prestigious venue," said Barbara Linarducci, Silvermine's CEO.
Jan Dilenschneider's work has been exhibited widely in Paris and in Connecticut. Though often compared to Impressionists, she identifies as an Expressionist, drawing inspiration from coastal landscapes and the silhouettes of trees. Her unique color sensibility harmonizes vibrant and complementary palettes. To keep a dynamic approach, she often produces diptychs, painted simultaneously to capture gestures and colors in sync. David Dunlop's luminous paintings, which draw on Renaissance techniques and contemporary science, have garnered significant recognition, and his role as a PBS television series host for "Landscapes Through Time with David Dunlop" won him an Emmy and a CINE Golden Eagle Award. In John Harris's landscapes, the gradual layering of paint and glazing gives rise to atmospheric qualities and allows the interplay of surface, form, and color.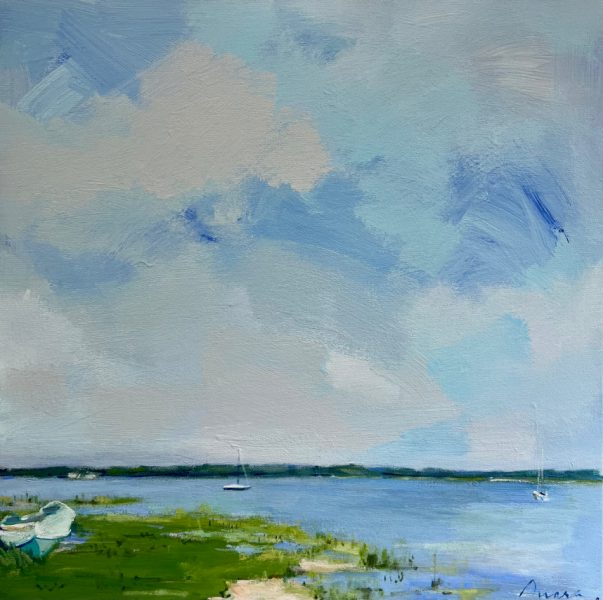 His paintings embrace changes in light, movement, and ambience. The transformative impact of the pandemic spurred Lynn Mara to refocus on essential values both spiritual and social. Immersed in nature during daily walks, she found inspiration in the emergence of shoots and bulbs, symbolizing hope and the inexorable draw of life. Her paintings radiate joy and hope. In her landscapes and in her photographs of daily life, Torrance York is fascinated by the photograph as a slice of the visible world—and a designed illusion momentarily perceived as truth. She holds a B.A. from Yale and an M.F.A. in photography from the Rhode Island School of Design, and her work has been shown in galleries across the U.S.
In an age where modern life can sometimes lead to disconnection from the natural world, The Inner Light serves as a reminder that the landscapes we traverse, both external and internal, hold immeasurable potential for healing and self-discovery. This exhibition is an invitation to step beyond the image and experience that resonance.
The exhibition will run through the month of September. The Sheen Center is located at 18 Bleecker Street, and gallery hours are 11 a.m. to 6 p.m. Monday to Friday, and 12 p.m. to 6 p.m. Saturday.
#   #   #
Located on historic Bleeker Street, The Sheen Center for Thought & Culture is a venue where art and spirituality meet. It aims to showcase and promote artistic and intellectual expressions that explore the intersection of culture, faith, and society.